I can't believe that Scotty has been out for an entire year coming June 15th. Wow, I thought the time would barely crawl, but it is going by really fast. It helps so much to be getting his weekly letters....and when he gets home, he will have a great record of his mission. I am so thankful that Scotty is able to serve in Sierra Leone. He has really grown to love the people there, and I know it will be difficult for him when it's time to leave. Keep him in your prayers and write him when you get a chance. Be patient if he doesn't write back right away....he has to go to an internet cafe and has limited time. It may be different now that he is back in Freetown.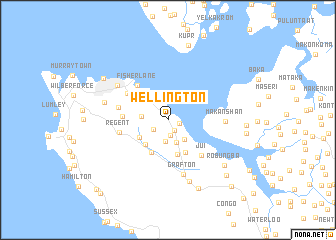 Scotty has been transferred to Allentown, but is assigned to work in Wellington.
Dear Mama,
I am happy things are doing so well.
Most of all not due to just circumstances. Really circumstances could be going crazy and chaotic or boring and still. But I am so happy that you have peace.
I am now in my new District in Allentown. It is relatively close to where I was before. But my proselyting area and branch are in Wellington. A bit closer to downtown Freetown. It is a sweet area. Freetown certainly is much different from Bo. This area is much more city then Rokel was. Rokel was pretty far our of Freetown and was much more rural.
I am doing very well with my companion Elder Baffoe-Appiah, he is from Ghana. But he is very quiet. Sometimes I really like the quiet but you know me. So I talk boku in the apartment at night with the other Elders. We have a wonderful District. My companion and I are the Wellington 1 Elders, we have the Wellington 2 Elder; Elder Nickle from AZ and Elder Animba from Nigeria.
They are great guys. The Allentown Elders; Elder Okello from Uganda and he is receiving a new missionary to train tomorrow who is still yet unkown to us. Then we also have the Wellington 1 & 2 Sisters in the district. Of course a different apartment. Sister Awuoche and Sister Ndolo from Kenya. And Sister Owusu from Ghana, and Sister Kioko from Kenya again.
They are all sweet. But its no easy sometimes with Sisters out here. But I know this is a huge opportunity for me to grow. And I have really been finding more peace within myself. A while back in Njaie Town I started doing some of my old Tai Chi stuff. Which I really enjoy.
We had a wonderful opportunity yesterday to have a Zone Conference and Elder John B. Dickson from the seventy came and spoke to us. It was a very powerful talk. I am honestly not too sure what I got from his own words but his instruction was very spiritual and I learned a lot of new things within myself.
But things are very nice here in Freetown. Love you mama,
Love your son,
Elder McDonald
Children carrying babies...very common.
This was taken by an LDS couple who were serving a Humanitarian Mission in Freetown, Sierra Leone. This was taken in the Wellington, Sierra Leone area.
This was one of the streams located near the Senior Missionary Couple were living.